Competency Maps & Toolkits
Subject Matter Expertise
With direct access to an impressive range of expertise across our alliance of member companies, PetroSkills provides unmatched capabilities within our competency consulting engagements. Regardless of technical discipline, industry, or operational area, our integrated teams work collaboratively to deploy turn-key competency solutions to our valued clients.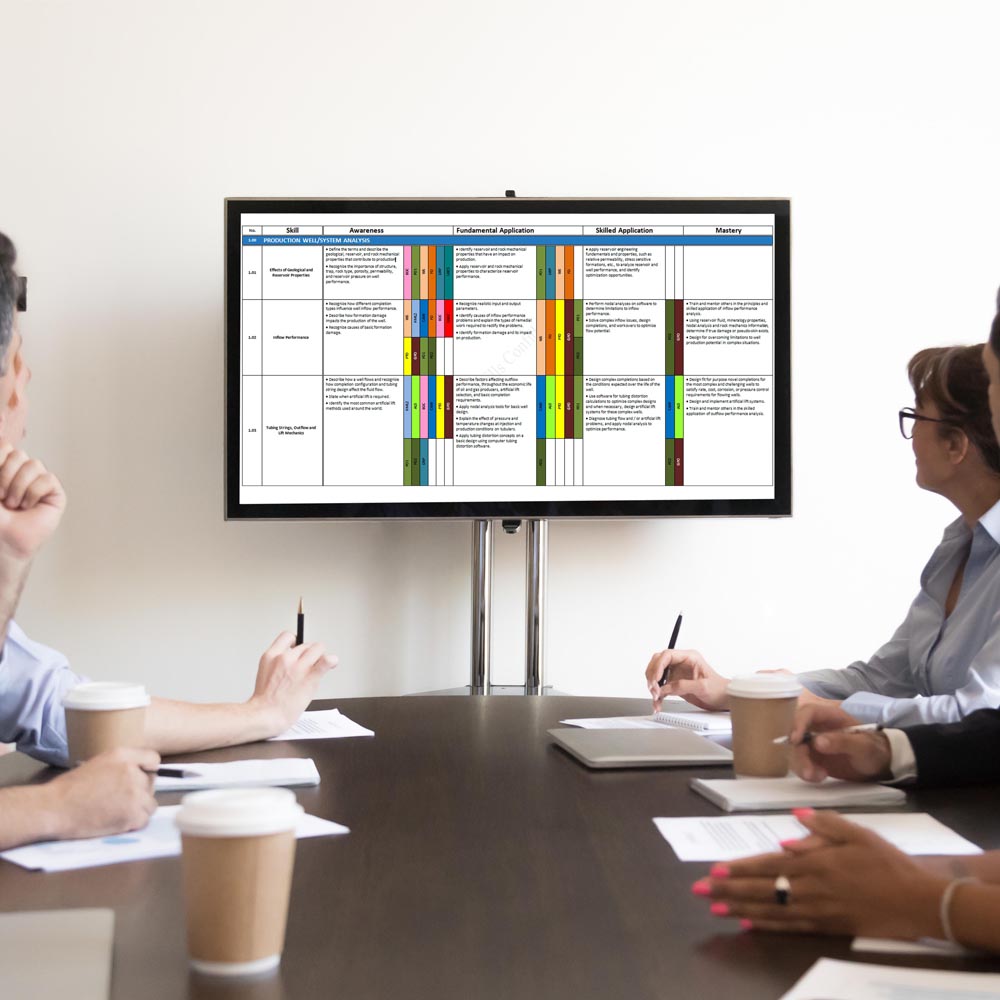 Program & Program Management
Our team of program managers and project managers are held accountable for each competency consulting engagement, maintaining project execution standards and reporting in alignment to PMI and agile project management methodologies.
---
Competency Specialists
Experts in adult learning, PetroSkills' competency consultants specialize in the strategic design, deployment, and overarching governance of all things competency, learning, and development. Engaged in tandem with technical subject matter experts, they ensure all aspects of a competency management program adhere to best practice methodologies around competency-based development.
---
Software Specialists
Our software specialists are fully versed in all facets of PetroSkills' software products, and liaise between all roles within our project teams to ensure our solutions fulfill the business and operational requirements of our clients. They ensure that the full potential of our software suite is unlocked to best serve the unique needs of each individual implementation.
---
Technical SMEs
With an extensive reach across all industry disciplines via the PetroSkills Alliance, our access to globally recognized and specialized subject matter expertise serves as a key differentiator. Leveraging our vast experience-base across virtually any technical area provides assurance that our competency consulting engagements continuously align to the current best practice standard, regardless of operational discipline.
---
Competency Maps
PetroSkills' Competency Maps (or CMAPs) define all of the Skill Groups, Skills, and Tasks associated with an industry discipline or area of work. It provides detailed descriptions of each Skill, and also identifies key variances in competence requirements across four levels of competency proficiency.
Example Competency Map (click to enlarge)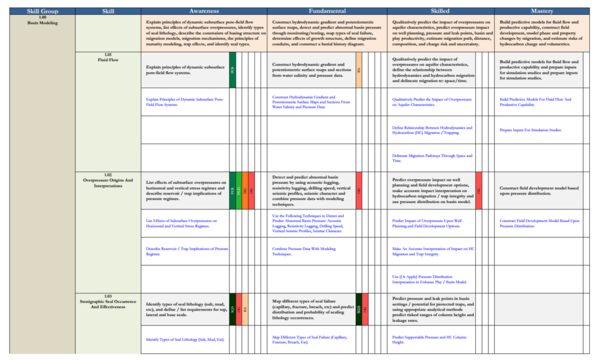 PetroSkills holds a tremendous range of CMAPs within their inventory, spanning across various operational areas and technical disciplines. Additionally, semi-annual audits and updates of all PetroSkills CMAPs are conducted in collaboration with our Alliance Discipline Members, thus ensuring that CMAP content remains relevant and current against actual industry standards.
Click each technical segment below to view available Competency Maps.
Geology
Geophysics
Petrophysics
Production and Completions Engineering
Reservoir Engineering
Well Construction / Drilling
Data Management (upstream)
Facilities Engineering All Rounder (upstream)
Instrumentation, Controls and Electrical Engineering
Mechanical Engineering: Rotating & Non-Rotating Equipment
Corrosion & Materials Engineering: Corrosion Control and Materials
Pipeline Engineering
Reliability Engineering
Offshore & Subsea Engineering:
Floating Sytem
Offshore Structural
Subsea Systems
Civil/Structural Engineering
General Process Technology
E&P Process Technology (Oil & Gas Processing)
Utilities
Operations, Maintenance and Turnaround Management: Facilities Operations and Maintenance Management
HSE - Management
HSE - Health
HSE - Safety
HSE - Environment
Energy Business
Land Management
Project Management
Supply Chain Management:
Strategic Supply Chain
Supply Logistics
Distribution Logistics
People Skills for Technical Professionals
---
Competency Management Process
---
Job Competency Profiling
Leveraging both our specialist resources around competency consulting and subject matter expertise, as well as our inventory of industry validated CMAPs, PetroSkills engages with the internal SMEs of an organization to methodically define the specific Skills, Competencies, and associated Levels of Proficiency that may be relevant to key site-specific job roles.
Through a series of Job Competency Profiling (JCP) workshops, a comprehensive Job Level Requirements (JLR) matrix is defined. This collaborative engagement ensures that the Job Competency Profiles created for an organization not only measure up to vetted industry competency standards, but also align to the site-specific requirements of each organization.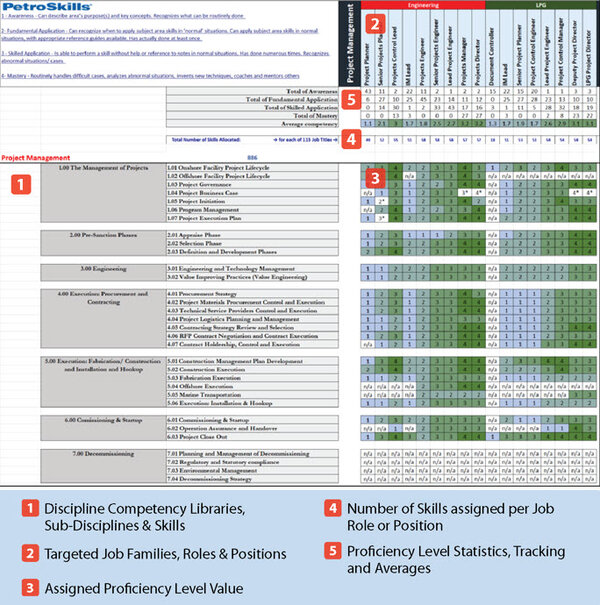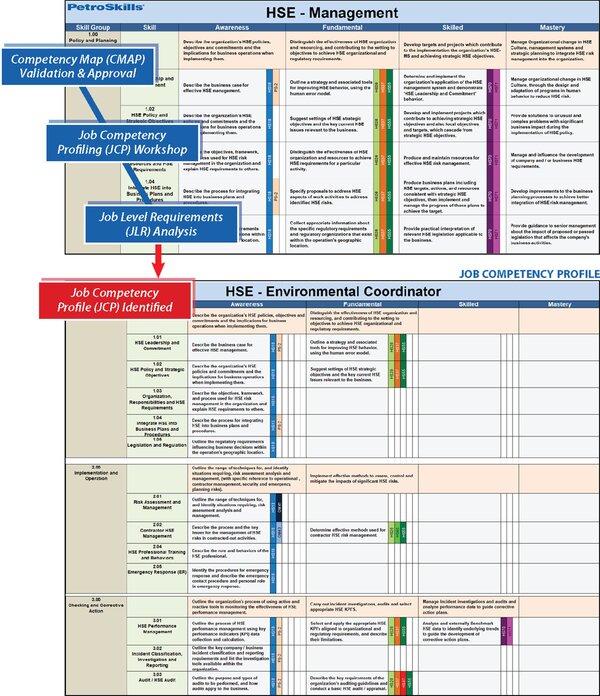 ---
Competency Management Software
PetroSkills suite of software products provide leading edge features and functionality associated with all facets of competency and learning management. Available as either standalone products, or as an integrated, full-scale solution, our consulting teams work hand-in-hand with your program stakeholders to ensure all strategic competency objectives across your organization are satisfied.